YOUR HOME LAUNDRY
– everything in the right place
It does not take much to create a good laundry room. Even if you do not have much space, you can find furniture and machines that fit small spaces. Whether you have a dryer or not make sure to have room to dry your laundry, it is good for your wool and silk and for the environment.
A drying rack or clothesline is a cheap and effective solution when it comes to drying clothes. Always make sure to ventilate well in your laundry room.
CREATE PEACE
Stick to a few colors, it creates calm feeling even when there is a pile of colored laundry. we have kept it all in white, blue nature and metal.
SAVE SPACE
Use canvas tote bags for the laundry instead of baskets. They are easy to fold or hang up after use and do not take up as much space when no longer in use.
Buy different sizes, one large for dyed and one smaller for silk or wool.
The tote bag can also be washed and used for other storage or for a trip to the beach.
STORAGE THAT WORKS
– clean up and find it again
We all know it, we clean up and put away, and then we never see things again. They disappear among everything else on shelves and in closets. With this solution the utility room is decorated with furniture that leaves things visible, so you always can find your things again.
IDEAS – OPEN STORAGE
Choose open storage, such as the wire cabinet or the shopping baskets that makes it easy for you to get an overview of the content. The metro shelf provides visibility, a lot of space and at the same time it can hold very heavy things. The transparent plastic boxes are especially practical if you want to store them for a longer period of time and for small things. As they are transparent, you can quickly get an overview.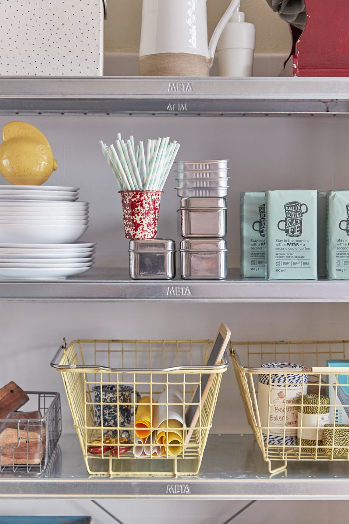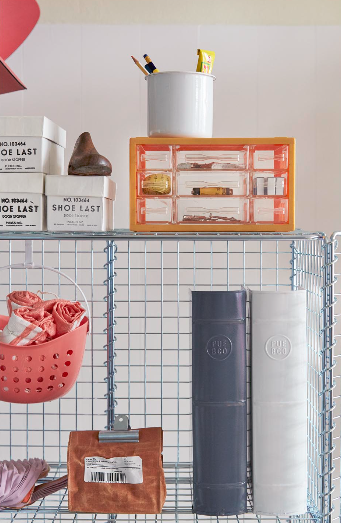 THE HOBBY GARDENER'S GREEN OASIS
Do you also love you green plants and are dreaming of place to care for them, then this is how you can utilize your utility room for your plants. You can repot and germinate, for both balcony and garden and maybe you also have the courage to grow vegetables inside, if you have a window with lots of daylight.
THE BEAUTY OF HANGING PLANTS
Hang your plant tools on a grid board that make them easy to find when needed. Hang things up with small hooks and hugs along with inspiration clippings, and seed bags. This grid is from Madam Stoltz.
You can also make your own lattice board from galvanize wire fences from the DIY store.
ARTIFICALLY DECORATE
You can cut some corners with artificial flowers and plants.
The advantage is that they look green and beautiful even though there is no daylight in the room. On this bamboo ladder, we have "cheated" and hung two artificial vines. They need no water or light, and as long as you dust them off from time to time, they will continue to look nice and green. The ladder can also be used as a "shelf" for garden and plant books.
A GREENHOUSE IN THE LIVING ROOM
A living room greenhouse is a great idea when you need to germinate your flower seeds. They stay humid and warm and you can keep an eye on them and water them regularly. The greenhouse can also be used to give the slightly winter-tired plants a boost. Heat, light and moisture get most plants back on their feet.
Photo credit:@photographernicolineolsen, styling:@filippaasved